So, You're a New Parent... How's that going?
No matter how much you read or watched videos or thought you were prepared... there is nothing like having a new little person in your home.
It's been a roller coaster... learning about the pregnancy, body changes, discomfort, people touching you, other's thoughts about your pregnancy, and then the delivery.
Now that baby is home, it's time to get to know each other. This is an important time for everyone in the family.
Perinatal Mood and Anxiety issues can arise anytime from the start of pregnancy through the first year of caring for your new baby. PMADs can also occur for new parents through foster care and adoption.
The New Parent Check-In is created for you! I remember the tired days, the late night feedings, the feeling I'd never catch up and wondering if I was doing it all right. This program will also monitor for any PMAD concerns to bring to your doctor.
If you ask (and even if you don't), you will receive advice from well-meaning people in your life. This group will help you navigate changes that come with your new parent role and meet with others that are like you.
This is a judgement free zone. You are encouraged to come as you are... the goal is to get your day started with support and encouragement.
There is a lot of adjustment to be done in the first few months, let alone that first year. This time can bring forth all sorts of feelings. The group is a safe place to bring up these issues.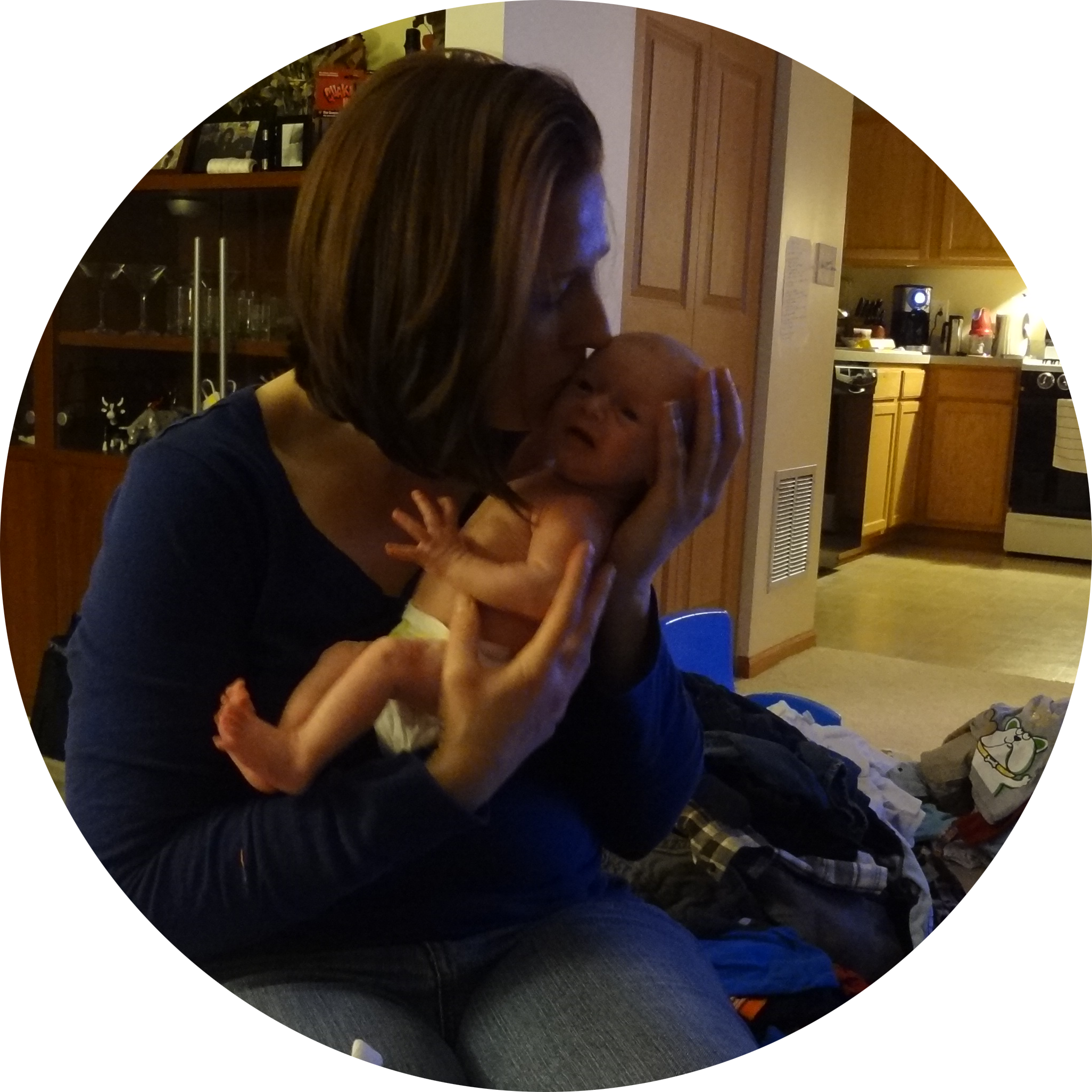 Bringing Baby Home

This is me with my baby Emily. Our family grew through foster care adoption. Emily is the second infant we have parented. She was 6 weeks premature and born with health issues. She was just under 5 lbs when we brought her home! And yet look at how long she is!
This was a tough time for me and my husband. Emily came to our home at 3 weeks old. We were placed with Emily and Chase, her 14 month brother, on the same day so we had two new children in our home. I had not been at my work long enough to take time off. We had help of family that came to help to fill in the gaps of my and my husband's schedule. It was a crazy time.
These siblings were like no other... Emily ate every few hours, Chase had nightmares and my husband worked overnights. Some how, we made it through.
Then came all the changes with setting boundaries at work, with extended family, and adjusting to the fact that my time was no longer mine, alone. And the exhaustion... I was not prepared for how tired I would be.
This is just a glimpse of my experience. I didn't have other possible adjustments of those new moms that gave birth. Everyone's experience is equally unique.
I had the benefit of support of a great group of women and a few wonderful friends that were open to my torn feelings and random questions. I hope this group can be that for you!

Frequently Asked Questions
What if I miss a meeting?
Life happens... You are encouraged rejoin as soon as you are able. Once a month a make-up session will be scheduled on a Wednesday or Friday morning.


How do I know where to meet?
You will receive a Zoom meeting invite with a passcode. These are closed Zoom meetings. No social media needed.


Can I purchase the program more than once?
Absolutely! If you find yourself enjoying the process, simply purchase the program again. We all have times we need support, we start doing okay and then find ourselves in that place again. This is one of those groups that offer benefits with each new leap into parenthood.
Can I get a refund if I'm unhappy with my purchase?
If you are unsatisfied with your coaching, reach out to see if your purchase is eligible for a refund.
You are encouraged to participate in the online meetings. Your attendance and participation is the basis of the program.

Thanks for submitting your information! Please continue with the checkout process.
Support is at your fingertips.
I look forward to meeting you!